★☆☆☆

Posts: 2
Joined:

3 months ago

Sweet Treats: Locked
Role: Kitten
Postby AikoFujiyama » 3 months ago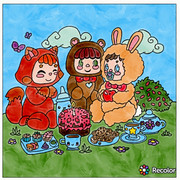 ---
---
★☆☆☆

Posts: 30
Joined:

1 year ago

Sweet Treats: Locked
Role: Little girl
Postby babybluebird » 2 months ago
---
---
---
---
---
★☆☆☆

Posts: 1
Joined:

2 months ago

Sweet Treats: Locked
Role: Little girl
Postby pacisforfreya » 2 months ago
Hey! I am new to this site and just joined today! i saw this and thought it looked interesting buttt I am SUPER confused as to how i access and submit the coloring page
---
---
BlueberryClot

art mod

★★★★

Posts: 138
Joined:

1 year ago

Sweet Treats: Locked
Rank: * Site Supporter *
Role: Little girl
Postby BlueberryClot art mod » 2 months ago
Hey! I am new to this site and just joined today! i saw this and thought it looked interesting buttt I am SUPER confused as to how i access and submit the coloring page
You just save the image file and print it, or colour it digitally via computer or colouring app on a device e.g. PrismaJoy.
Hope that clears up the confusion. However July's contest has closed.
Update for our Colouring Members
I haven't been able to access the site for about a month possibly? So August's contest probably won't be happening given there's only about 11 days left.
My Sticker Book
---
---
---
Who is online
Users browsing this forum: No registered users and 1 guest
Forum Requirements
While our content is generally rated PG or PG13, all users must be 18 years old or of legal adult age or older in their home country to read or participate on the Littlespace Online forum. Questions or concerns may be directed to the forum administration or Littlespace Online moderators.
Link Navigation
Information